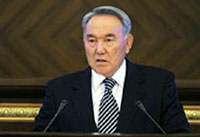 Key aspects in legislator work are to create legal conditions for transition to "green economy" to be based on the renewable power generation and environmentally friendly technologies.
That is a point of our global initiative "Green Bridge".
Therefore, we need to extend the legislative stimulus to save energy and water and to use "green technologies"
Extract from speech of Nursultan Nazarbayev, the President of the Republic of Kazakhstan, to the Parliament Deputies dated September 3, 2012.